Do you want to entrust your Rolex to just anyone?
I didn't. Years ago I needed my Submariner serviced. I searched everywhere, investigated the various sites and repairman.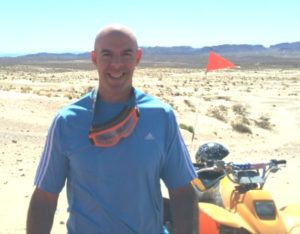 After having my Rolex serviced successfully I now know exactly what to look for and who does quality work. I then created this website to assure that you get in contact with the best repairman and take advantage of all the research I already did. I have my watch serviced regularly by simply shipping it (insured of course) and I get it back in better than new condition every time.

Yes that is me in the desert with my watch on, probably not the smartest idea, and you can reach me with questions if you like here: brian@longest.com. Otherwise simply fill out the form to the right and you will be contacted about what your watch needs for an over the phone estimate. Rolex service is just $395 and Joe uses genuine Rolex parts. Learn more below about Joe Roth below, the watch repairman who will call you.
Meet Joseph Roth, the Master Watchmaker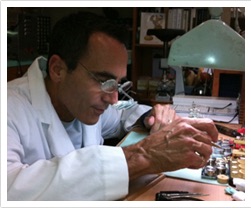 Joe is a Swiss-trained Master Watchmaker who holds a Technical Certificate from Rolex. He earned the internationally recognized WOSTEP Certificate after finishing the two-year certification program entailing 3,000 hours of instruction from the most prestigious watchmaking school in Switzerland, the WOSTEP in Neuchatel.
Joe then returned to Miami and began working with some of the top jewelry houses as a watchmaker and was sent to Rolex New York for special training, where he received official certification. He is also a member of the American Watchmakers-Clockmakers Institute. And yes that is a picture of Joe to the right. Joe has completed a series of courses with AWCI (American Watchmakers-Clockmakers Institute).
Q: Why Service Your Watch?
A: A constantly running mechanical watch means there are some worn-out parts. Just like any other mechanical based item it is subject to wear and tear. Realize that a mechanical watch runs on metal-on-metal action where friction happens all the time. A single worn-out part can ruin the entire watch, so replacing it stops the damage right away. It costs to buy new parts and sometimes the price for regular service is much less than that. A service will get it back in the same condition as when you purchased it. You will be amazed. Make sure the watchmaker you use offers offers official Rolex parts. Not all jewelers offer the same level of service and repair. Rolex is a special piece that requires special treatment, so do not take chances.
Q: How Often Should You Service the Watch?
A: The short answer is to service your Rolex every 3 years. If you take care of your watch then a periodic service should be all you need to do. The cost of a repair mostly comes from replacement parts. Things to look for during your service periods are potential water damage. When moisture is captured inside the watch case, you need to deal with it quickly or the damage can be more severe.